Are you looking for a dentist on Ruislip High Street? You can find us at 44 High Street, Ruislip.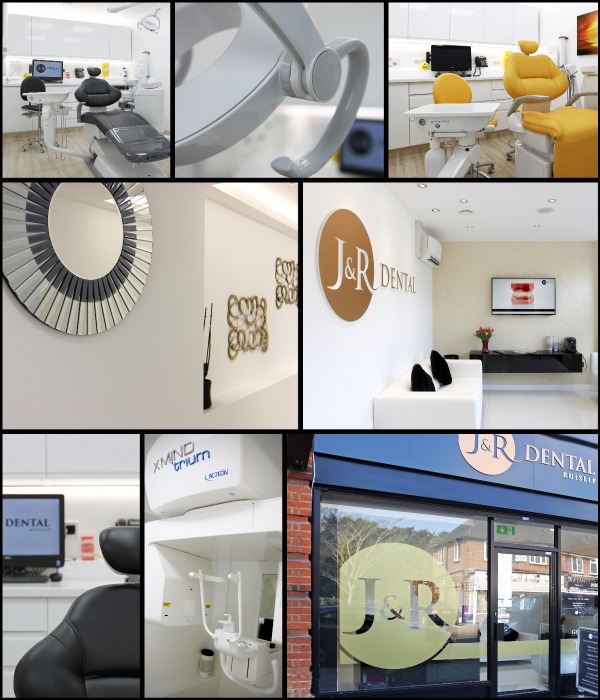 Call Us
We're happy to discuss your options on the phone.

01895 34 71 71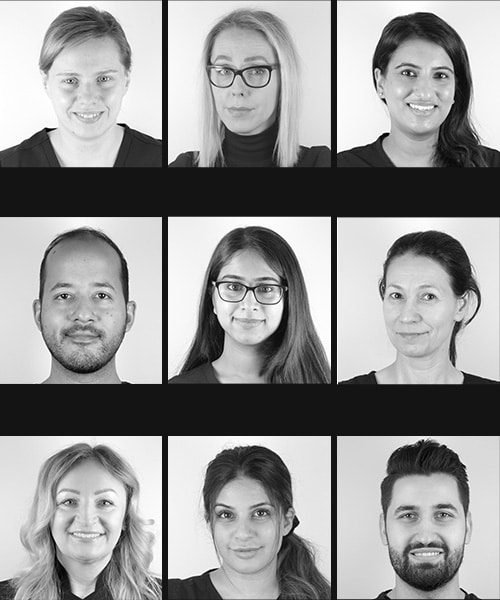 NEAREST STATIONS
8 mins walk from Ruislip Underground Station,
15 mins from Ruislip Manor Underground Station
15 mins walk form West Ruislip Train Station
Find us on the Hight Street
| | |
| --- | --- |
| Monday | 9am–7pm |
| Tuesday | 9am–7pm |
| Wednesday | 9am–6pm |
| Thursday | 9am–6 pm |
| Friday | 9am–2pm |
| Saturday | 9am–1pm |
We are closed for all Bank Holidays
Read our Google 5 star reviews
Thank you Angelika for your kind and caring manner and helpful advice!
Just finished my Invisalign with J&R. Cant rate them enough! They're all very friendly and gentle. I used to hate the dentist but didn't even think about it going here. 100% recommend.
i completed invisalign within 5 months with dr malik and i've never been happier with the result, any small changes or worries i had he solved for me as soon as i mentioned it! i've already received so many compliments about my teeth and it has only been a week since i've finished my journey. i'm not even mentioning the laughs and chats i had, he is genuinely the nicest and most professional dentist. you will definitely achieve the result you are aiming for if you do as you're told ahah! thank you once again i appreciate all the hard work & attention that was put into my invisalign journey 🙂
Great service, have been really helpful, explained everything in detail, and always makes me feel welcomed and relaxed
Best dentist practice I've ever had! 🙂 Started there with orthodontics to straighten my teeth but switched to them as my main dentist now
Excellent service as usual - honest and effective advice, much better than NHS, in fact night and day difference. Would recommend highly and will be going back, the condition of my teeth has never been so good!
This is my Final treatment of Root Filling done by Dr Malik Saleh, he was brilliant, I'm Really happy with the result! Highly recommend.
Been here twice for both a general check up and hygienist clean. Both times have been a great experience, reception staff are lovely and all the dentist's are so patient, informative and easy to talk to.
Started my Invisalign treatment 18 months ago, results are perfect!Friendly Staff and happy to rearrange appointments to suit - Would Highly Highly Reccomened
I was a nervous wreck and came out in a cold sweat whenever I had to go to dentist. But J & R have been brilliant and i honestly can say I now go without that feeling of dread.
Really friendly professional practice. The quality of dental treatment is excellent, I was even advised against having some older fillings replaced (which I had requested) as they weren't causing any issues and it would have been an unnecessary expense. Can't argue with that kind of ethical approach, recommended 👍🏻
I can not recommend enough. Firstly I am one of those many nervous patients . I was welcomed so warmly to start with the receptionist who was so kind when I called for an appointment in extreme pain . The dentist was excellent and reassured me and explained all treatment in detail. The level of care and my experience was beyond excellent and feel at ease to return for further treatment . The dental nurse was also so lovely and kind . I cannot fault in anyway and would highly recommend to anyone .
I attended this dentist through recommendation and I am so pleased with the treatment plan and the results achieved, I would happily recommend their services to others.
I feel very well looked after. Especially, being extremely nervous patient with huge fear of dentist. I can recommend enough this practice. Also receptionists are friendly and always helpful.
Jas (female dentist) is absolutely amazing. She explains everything clearly and makes you feel as comfortable as possible. Best dentist I've had.Olga (receptionist) is friendly and always welcomes you with a lovely smileHighly recommend
Finished my Invisalign treatment with Dr Malik with amazing results. Thank you Dr Malik for you're excellent work.
High standards, great service, very polite staff and affordable prices.
Dr Sagoo is very professional and patient in his approach. I had veneers done on the top teeth and my crowns changed on the bottom teeth. I had made few visits to the clinic as the original veneers were not to my liking and there were a few issues with colour, but I believe this was problem with the lab the veneers are designed by. Overall, I'm happy with the results and I would recommend this dentist to my friends and family. Dr Sagoo always responded to my email queries rapidly and even managed to open the surgery on a day it was closed to see me in emergency when I had a toothache. I'm very impressed with their hard work, positive and professional attitude. Thank you to all the team at J&R dental.
Always super friendly and professional. My children absolutely love their hygienist appointments. I personally had a smile make over and a year later, no problems and my teeth still look like on day one of having them done... 100% recommend best dentist in Ruislip and they are extremely patient with nervous patients...I was one but I no longer feel phobic of the dentist thanks to Jas!
A 5 star service for cosmetic dentistry work carried out over the last year. Extremely pleased with the results and service provided throughout. I highly recommend them.
Great friendly service. Had a bit of a minor dental emergency and they fitted me in the next day and didn't charge the earth. Can highly recomend.
Dentist was very professional and well priced
Really pleased with my implants.
Friendly reception and a spotlessly clean practice. I've seen a couple of different dentists (for different treatments) and both were equally welcoming, friendly and professional. Highly recommend.
Highly recommend dentist in Ruislip. I have had an amazing service each and every-time I have visited them. The staff are amazing from the receptionist to the dentist. Very caring and have time for you. Thank you
I have recently completed my course for Invasalign and it has been one of the best experiences I have ever had at a dentist. Dr Malik was from the very beginning professional and patient. He was always happy to answer my questions and explain everything in a way that put me at ease. I can't thank him enough and I love my new teeth. I would highly recommend Dr Malik to any of my friends and family, truly one of the best!
Great experience at this practice! Had invisalign done by Dr Malik Saleh, he was brilliant, explained all my options clearly I knew exactly what to expect and he was happy to take the time to answer my questions. Really happy with the outcome too! Highly recommend.
I recently completed Invisalign treatment with Dr Malik and am absolutely over the moon with the result. I couldn't have asked for a better dentist. Dr. Malik always listened to my concerns, answered my many questions and was patient, compassionate and caring throughout my 18 week treatment. He was always accessible and even offered follow-up calls if I was unable to attend. After avoiding the dentist for a long time, I was apprehensive but Dr Malik put me at ease. If you're looking for a dentist, look no further. Thank you!
I had a great experience at J&R Dental. Very professional and kind staff who made my experience so pleasant. I had composite bonding done which has exceeded my expectations, I'm over the moon with the results. Thank you team!
Great service from all the staff,highly recommend👍
Great friendly staff, great service. Cannot rate high enough.
This is my second review of J&R dental practice following my recent cosmetic treatment. I have been a patient for several years now and their standard of general dentistry is always first class. I finally took the plunge (at age 70) to have composite veneers on my front teeth and I am thrilled with the result. I wish I'd done it years ago! I had a small amount of gum removed by laser to even out my gum line which was painless and healed in a few days. I now have a lovely smile thanks to the skill of Jas and highly recommend him to anyone who is considering this treatment.
Fantastic service from booking to completion of my emergency work. Highly recommend!
Dr Jas Sagoo and his team are warm, friendly and very professional. I feel at ease every time I enter and leave the clinic. As someone who is health conscious, it took me weeks of research to find the perfect orthodontist and I'm glad I chose J&R for my Invisalign treatment. Price was not an issue for me because I just wanted a good dentist I can trust but I was amazed at how affordable J&R's Invisalign treatment is compared to other clinics. When I first had my consultation for teeth straightening, I asked Dr Jas Sagoo about 10 questions and he was honest, sounded experienced and was happy to address any concerns. There was no sales pressure. In the past, I've had a traumatic experience with my dentists so I naturally stopped trusting every dentist I came in contact with. Therefore, I became sceptical and would do my own research to ensure my teeth were cared for and this became time consuming and tiring. At J&R I don't feel the need to do that because Dr Jas Sagoo, informs me if there's any issues with my gums and teeth so I can do something about it. Or even if I need something as minor as a polish, Dr Jas Sagoo will still tell me and I really appreciate it. It feels amazing knowing I finally found a clinic I can trust for life. Last week I had a hygiene clean with the dental hygienist and she was brilliant (sorry I don't know her name). She even recommended an electric tooth brush gum sensor to protect my gums from receding and I had no idea such a thing existed - very grateful. I'm always recommending J&R to family and friends because they're that good. Dr Jas Sagoo, is a perfectionist. It's only been 4 months and my teeth are already looking straight😳. Thank you J&R. Highly recommend!
Very professional set up. All the staff at the practice are polite and approachable.I had some composite bonding work. Dr Nagoo explained everything to me in layman's terms so I knew exactly what was going on. I'm so happy with the work he did. My front 4 teeth 🦷 looked pretty horrendous in truth, they now look amazing I couldn't be happier! I wish I'd visited this practice years ago, can't recommend them highly enough…
Was very pleased able to see me straight away.I was given options to resolve issue with my fractured tooth. Was so lucky as weekend approached now seeing my own dentist still deciding but hey ho the temp dressing going strong allowing me time to weigh my options xx
Went for a scale and polish, very good and efficient service
Excellent service, I'm nervous of dental work so was very apprehensive with having an Implant fitted. Jas was very patient explained whole process and each step as it happened. Honestly I can say I was never once in any pain whilst having the work done in the dentist. Yes after at some stages there is some discomfort which is expected but it's manageable.
I went in for a dental implant earlier this year and can confidently recommend J&R Dental. I wanted to wait a little before writing a review incase problems arose down the line but I've had no issues with the implant whatsoever. Their price was reasonable and service from all the friendly staff was excellent. The clinic is modern and has an inhouse CT scanner which is great as some places do not, meaning a trip somewhere else to have this done. 5 out of 5.
I have been using Jas and his team at J&R Dental for a couple of years. In that time I have had root canal, a filling, a crown and a veneer and the work has been perfect.It is almost a pleasure to go to the Dentist.
I saw the hygienist, Angelika recently. She is a true professional and very passionate in her work. The staff are all very welcoming especially Anita.My dentist is Jas and he is truly professional and always puts you at ease and will address any of your concerns with good advice.
Wonderful service with kind and friendly staff.
Professional & Welcoming 🙂
Marion lindoresJust finished having implants. Now i can laugh and smile with lovely teeth. It took a long time what with covid delaying it but the result was worth the wait. First dentist i have been to feeling very relaxed. Also had two teeth out. So easy. Never felt a thing. So can't recommend them enough. So thank you J&R.
The dentist was very helpful, professional and listened to my concerns. They gave me some useful advice to follow which has greatly improved where my tooth was hurting.The dental surgery is very well spaced out for Covid and great hygiene measures overall.The receptionist is very friendly.I have been going to this dentist for quite a few years and will continue to do so as their services are always excellent.
Very happy with the service
They are personable and efficient, an almost enjoyable experience. I would highly recommend but that would mean I will have to wait even longer for an appointment, which is a good sign of a great dentist.
I made an emergency appointment with J&R Dental after waking up during the night in lots of pain with a tooth. (I no longer live in Hertfordshire where I'm from, as I now live in Staffordshire - I came down to initially visit family!) J&R were the only dental practice that would help me. All of the staff I met were so friendly and attentive. Everywhere was clean, and there was hand sanitizer available. They explained everything about what they're going to do and how they're going to do it. They frequently checked to see if I was okay, as I'm not a huge fan of the dentist! Unfortunately I needed a tooth removed, but that tooth wasn't playing fair. J&R removed a huge amount of the tooth and are referring me to a specialist in one of my local hospitals. They again explained everything that I needed to do, to keep it clean and general after care with antibiotics. I've since come home to Staffordshire, and have had absolutely no problem with my remaining tooth. I feel so much better than I did! Now I just need to wait for the hospital appointment to come through.I'm so grateful for all that they have done.Thank you, thank you, thank you!!!!
I needed 2 implants. I chose Jas to do them because he gave me a clear impression that he was genuinely expert. I was correct. He did a superb job on both. Equally importantly, he didn't try to "up-sell" me additional work. I cant praise him enough. 5 stars.
Excellent service from start to finish...Only wish I had of found them sooner...won't be going any where else. Highly recommend!
Great experience from start to finish, very friendly staff and atmosphere and also top quality dental work will definitely recommend.
Highly recommend Absolutely delighted with my composite veneers. The initial consultation gave advise and options with no sales pressure. Lovely friendly team who go the extra mile.
I was recommended here by a family member and I couldn't be happier with the results. I had Invisalign and I also had some composite bonding on one tooth. The whole team are friendly and know exactly what they are doing. I wouldn't use anyone else if I wanted any cosmetic dental work in the future. I always recommend to family and friends. The receptionist is always so efficient and super friendly which is hard to find at Doctors and dentists so that's refreshing and makes the whole experience pleasant. Also always spotlessly clean. Highly recommend.
Friendly environment and happy with the service!!
Great dentists. Been fantastic with me and amazing with my autistic son who didn't cope well at previous NHS dentist.
Very caring and professional team. I was terrified of dentists but now go quite happily. Would recommend highly. They really care about you as a person and are dedicated to looking after teeth
Got an appointment straight away, followed by great service and care. Thank you.
Lovely, extremely hygienic and very professional 👏 thanks!
Very friendly dental surgery, fantastic receptionist.Highly recommended. Very helpful
A lovely practice with amazing dentists! Jas is brilliant at what he does. Would 100% recommend!
Jas is great dentist, and Anita is always very helpful.
Great experience. Very friendly staff
I always see Jas , he is so professional, puts you at ease immediately ! Having previously been a very nervous patientat other surgeries I have no anxieties now !!! I would highly recommend, a great friendly team !!
Excellent experience! The dentists here are brilliant; they really take the time to understand your issue and thoroughly talk to through the procedures and treatment required, including outlining all options available - has changed my opinion on dentist (I used to universally hate them all) - I HIGHLY recommend J&R to all!!
Excellent service and good prices
Having my treatments done in Germany I have tried out a couple of dentist in uk. Not much success... But J&R Dental was so far the best in UK... I had a big treatment plan in which I needed a crown and some fillings... J&R dentist conducted a thorough consultation and explained the entire procedure...And after 3 follow-ups the entire treatment was successfully completed. I am very happy with the treatment. Very friendly and helpful staff...My next appointment in July for a follow-up, look forward to seeing them again.I would recommend people to get your treatments done in J&R Dental Ruislip... 10 out of 10...ThanksSalma
My Dentist was Jasdip Sagoo, and i believe he is my best dentistI have very bad Teeth line he done great job and brought me my smile backThank you J&R dental
Great service and great team!
My experience at J&R Dental was outstanding. Jas (my dentist) was a perfectionist in his work; he did not rush any of the work or sessions. He explained everything clearly and provided great advice.I am over the moon with the results.
Great service, very reasonably priced and, very importantly in these COVID times, it was quite easy to get an appointment within a week.
Fantastic , professional service . Very fruendly hygienist.
A friendly and efficient practice with upto date equipment and knowledge - always telling you what they're doing and why. Great care during and after procedures. An all round friendly team, puts you at ease the moment you enter. Thank you guys *****
Always a warm welcome. A really positive experience.
Warm, friendly & efficient service.Excellent !
The Dentist was very professional with lots of patience. I would recommend this Dentist anytime. Their prices are so reasonable
I had Invisalign with J&R Dental. Jas and all the staff are so friendly. I was impressed right from the start when I had my consultation, they weren't pushy at all and I felt no pressure. They were always able to fit me an appointment even when they were really busy. I really felt like Jas made sure that I was going to be happy with my results in the end and I now love my smile! Thank you! - Keerthana
I have been extremely impressed with the service and care I have received from J&R Dental from start to finish. I would highly recommend them to anyone. I was fitted with Invisalign and Dr Jas Sagoo was my dentist - not only was it very clear he was extremely intelligent in his field of work, but also always met every need and expectation I had. I still tell everyone that Invisalign was worth every penny I spent!
Very happy with the service at J&R Dental. Staff are friendly and professional. Helpful reminders are sent of appointments. Would highly recommend.
My experience was a very good one. I was made to feel comfortable during my treatment.
I had gone to a big dental practice with branches all over the UK they took my money up front £9,500 but the equipment they had was outdated, I left there in pain and stitches in my mouth needless to say they went bankrupt... Found J&R on Google WOW. they have the latest dental equipment NO pain NO stitches like anything worth doing properly takes time, I haven't smiled for years because of my teeth but now am coming to the end of my treatment and yes I can finally SMILE I would and have recommended J&R in a heart beat. The receptionist Anita has the most beautiful eyes. Thank you J&R
Jasdip Sagoo BChD (Leeds) MFDS RCS (Edin) MClinDent (Prosthodontics)GDC No: 153612Very friendly and high quality dental care. Dr. Jasdip Sagoo fitted for me dental crown . Perfect ! Highly recommended ! Thank you.
Absolutely fantastic service, always accommodating and helpful with anything you require.
I came to J and R Dental after seeing amazing results on their social media and it has been the best thing I ever done ! I have been unhappy with my teeth for years and I couldn't stress that enough to the team. I was in for a consultation, photos and scans and Invisalign ordered and fitted all in 2 WEEKS !! The team are friendly, helpful and professional! I am so insecure about my teeth and they have done everything possible to fix my smile on a quick turn around and amazing price ! I honestly can't thank them enough for how fantastic they have been, buzzing for my results !! X
Reccomend by a family member and I'm so glad I was. Clean, well priced, organised and thorough. The dentist is lovely and explains everything she's doing to keep your mind at ease. Very impressed and would reccomend to anyone.
I have just completed my treatment with J&R Dental and cannot recommend them enough. My teeth have been completely transformed and I'm really happy with the results. Jas at J&R was amazing, he knew exactly what I wanted from the start. Also, the whole team was friendly and professional throughout my whole dental treatment. I couldn't be more happier with my smile!
J&R Dental are extremely professional and friendly. I have received amazing results from Invisalign and whitening with J&R Dental. I can't recommend them enough.
Excellent and friendly service. I have just finished the Invisalign program and can attest to good results. Would highly recommend the principal dentist Jas.
All friendly and professional
I always had issues with my front tooth since I had a root canal when I was 18 and got it whitened internally twice to match my other teeth. During my last teeth whitening at Smile Cliniq, the dentist whitened it so much that it weakened my enamel and the bottom became transparent. The dentist, Dr Chetan Kaher said he couldn't do anything about it and that he would need to do all my canines as it would affect my bite if he did a composite bonding. Last week, due to the enamel being so weak, my front tooth chipped. I came to J&R and Jas did a painless composite bonding without anaesthesia and I couldn't feel anything. He has made my front tooth match all my other teeth, when Chetan said he couldn't do anything and other dentists I went to said I'd need a veneer. I cannot thank Jas enough for restoring my tooth with composite bonding and amazing results for £250. After my bad experiences, I am so glad I found a honest and caring dentist like Jas and will recommend him to all my friends & contacts. The receptionist and nurse were very welcoming and friendly too. Such a great experience!
I would thoroughly recommend.
Came to this practice with a smile that would scare the kids away, but left with one that now gets compliments daily! Cant give a high enough review. All I'll say is friendly staff who make you feel comfortable and at ease, and a dentist with a very high level of skills. If you want that smile you always wanted..this is the place. Thanks again guys.
I've been seeing Jas for over a year for Invisalign braces and dental treatment and can't recommend him enough. He is so patient and calm which is just what I need. Also the practice staff are lovely and friendly. Thank you all for providing an amazing service! Xx
Amazing results. Very friendly and welcoming from the very start. I highly recommend J&R Dental to others.Brilliant! What more can I say
I experienced the work of a polite, personable and effective team that supported an excellent surgeon and nurse. It surgery methods upto date and very efficient, I was apaised fully of each stage of the implant procedure and felt secure in the progress being made. Now with 4 new implants I feel confident in smiling and positive in conducting a high profile occupation where looks matter!
Great service with amazing end result. Highly recommend J&R for any cosmetic dental work
Having had 6 composite veneers today , I would highly recommend Jas at J&R. I have wanted straighter and whiter teeth for about 30 years- most recently I looked into braces again (I had them at age 12 but the results were not great back then , but considering the cost of them now and also the time it takes , although not long, I preferred the quicker & cheaper option with the veneers and I am so happy with the result - I wish i knew about composite veneers years ago as such a quick fix but i did my research and after speaking to Chloe and Jas - was happy and confident this was the way to go. The end results are great. Very happy.
I had several orthodontic and cosmetic treatments done at J&R. I've been to many other good dentists but the team at J&R is by far the best in my experience. Needed an emergency treatment the day of my flight and the team was amazingly accommodating. Cannot recommend this place enough! Thank you!
I don't know where to begin!These guys are fantastic! I have been going to J&R for over a year. Got my braces treament (12 months) done as well as Invisalign (7 weeks). I went to 3 consultations prior to my treatment and every dentist said I needed 6 extractions before they could put the braces. I am so glad I stumbled across J&R. Based on their reviews I decided to check them out (free consultation). Long story short my teeth are perfect now with 0 extractions made and I am absolutely in love with the results! Jas, the dentist, who took care of me is exceptional, professional and friendly. He really made me feel at ease throughout the process and showed a personal interest in ensuring I have perfect results. Anita and Chloe are a credit to your practice. Thank you girls! I would highly recommend this dental practice to my friends and family! Thank you J&R! I will miss you all! 🙁 xx 💕💕
Been to various dentists over the years for my teeth and never got the service treatment or answers I wanted until I came here. 5 star service. So simple ,easy and the highest quality of treatment. Completely transformed my smile when numerous other dentists couldn't. Super friendly and comprehensive team. Quick service but still take the time to assess your case and give you all possible options. Top quality dentists went over my case numerous times and gave me all the pros and cons of all possible options to decide the best treatment for me. Everything was clearly explained, nothing was hidden or over complicated like it is with other dentists sometimes. Breathe of fresh air. Couldn't be happier with my smile now, only regret is not coming sooner. Cant recommend enough.
Wow fantasic dentist amd staffWent today for treatment and was made to feel relaxed also given options for the 1st time in 20 years after so many bad exprences else where this was good a whole new dental experenceThe work / art was great i had no pain at allThank youMarkMark
Recently just finished my treatment with J&R dental. Id recommend this place to anyone. I had Invisalign and then I had to get some bonding done at the end which Jas did for me. He was really helpful, I felt that he really cared about me getting exactly what I wanted and made sure that nothing was a problem. He did a great job and now I have a smile that im proud of and wanted for a long time. I was looked after by Chloe. This lady went out of her way to help me, she made me feel like I was really important and that my treatment was a priority. She is a credit to this practise. Really grateful to everyone at J&R Dental!
I would highly recommend J&R Dental for dental treatments, they are friendly, welcoming and highly professional. I have always been really self-conscious of the gap in my front teeth and always wanted to improve the appearance of my teeth at the front. I was looking for a quick fix so Jas talked me through the different options available and I choose to proceed with the Composite Veneers as they best suited my requirements. I am over the moon with the outcome of my teeth and I am so glad that I went to J&R Dental! I would defiantly recommend Jas and his team as they really listen to your individual requirements to ensure you receive the outcome you desire.
Exceptional professionalism. Painless Invisalign procedure which took less than 6 months, friendly and efficient staff. No complaints. Highly recommended
Payment method
The following credit/debit cards are accepted: MasterCard, Maestro, Visa, Visa Electron, Amex.
Change of Details
You must inform the practice immediately of any changes to your contact details. Failure to do so will mean that we are not able to provide you with essential information and updates.
Cancellation of Courses of Treatment
If, for any reason, a course of treatment is cancelled, then we will make every reasonable effort to give the patient as much notice as possible. J & R Dental 's maximum liability will be limited to a refund of the advance payment fee ONLY. Refunds will be made by the method in which the treatment booking was paid. We will not accept liability for any additional costs or losses incurred by a patient or organisations, which are claimed to have arisen through treatment cancellation. We reserve the right to vary arrangements for the delivery of a treatment plan and in such cases will make reasonable efforts to inform patients in advance.
Cancellation by the Patient
You may cancel a course of treatment for which you have booked an appointment and be fully refunded all fees for treatment not yet performed; provided you give the practice a minimum of 48 hours prior notice.
If 48 hours prior notice is not received, we reserve the right to withhold a proportionate amount of money, based upon the length of the appointment, to cover overheads.
We will refund the money to patients who wish to discontinue treatment at any time. A notice period of 14 days is required upon which they will be eligible for a refund of any amount paid for treatment that they did not receive.
If a patient is receiving any treatment that involves laboratory work and initial work has been carried out; i.e. if the patient is having crowns/bridges or a denture made, and the work has already been started or completed by the laboratory, a proportion of the fee taken on the preparation appointment will be kept to cover the cost of the laboratory invoice.
Refunds will be processed within 14 days after receipt of your request in writing either by e-mail or post:
E-Mail: Info@jandrdental.co.uk
Address: 44 High Street, Ruislip, HA4 7AN
If you have paid for services not yet provided, that does not involve a laboratory fee, we will either credit your account or refund the transaction paid by the method of which the original payment was made. If the method was cash and you are unable to collect the refund in person, it will be posted to you in the form of a cheque.
Approved By: Jasdip Sagoo
Date Published: 11/10/2021